David Meigh
We help Business owners get the best from their Websites, Broadband, mobile phones, tracking & IT with our Full Term Support. Enabling business owners to be Better, Bolder & Busier in the Staffordshire, Shropshire & Cheshire area.
Established in 1993, Enable Business has always aimed to be honest, knowledgeable and approachable about all aspects of communicatioins, Business technology and web design.

Technology support for all business users. Mobile Phones and landlines - business contract reviews, tariff reductions, as well as the very latest Hosted Voice telephone systems. 3000 free minutes per month and packed with useful free features. The complete one-stop shop for business communications support. Business Computer sales, repair and support - New and used PC and laptops supplied, virus, malware, Trojan and ransom ware removal, software and hardware repair and support. Websites designed and hosted with friendly help all the way through the design process. Vehicle and Lone worker tracking with cloud based mobile friendly map viewing. Business productivity software including customer database and CRM systems.

Based on the A34 in Newcastle under Lyme, our showroom is easy to find and easy to park. We are open 5 days-a-week [0930 -1730].

Our aim is to help make each business we meet better, bolder and busier.

Be better, be enabled !!
What has the BNI done for my business
BNI has given me access to high calibre business connections that I would never have met, let alone do business with.

The weekly morale boost from like minded professionals is just the tonic for the toxic business environment of today.

BNI has helped me transform what was a job, into a business!
How I value BNI membership
Made lots of new friends.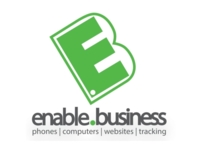 Enable Business
The Business Support Centre
104 London Road
Newcastle
Staffs
ST5 1LZ
Tel: 01782 711141
Email: sales@enablebusiness.co.uk
Website: http://www.enable.business
Testimonials
By: Ron Fox (Noreus Ltd) 29/06/2022
Re Dave Meigh - Enable Business.co.uk
I must admit I was initially reserved in my enthusiasm to up grade our telephone system.
I usually use the term 'if it ain't broke but don't fix it'.
But since upgrading through the help of Dave we have met our sales targets each week . Customer satisfaction has never been better and communication with customers with the new telephone system has been a dream.
I thoroughly recommend any business to upgrade as soon as possible.
Have a chat with Dave.
Ron Fox
Noreus Ltd