Richard Dalton
We are a family run garage that has been looking after vehicles in the area since 1987, with a wealth of knowledge at our disposal and some of the most qualified and dedicated mechanics, technicians and office staff
We are a family run garage that has been looking after vehicles in the area since 1987, with a wealth of knowledge at our disposal and some of the most qualified and dedicated mechanics, technicians, office staff and of course our resident garage dog Spa.

We are a family garage that aims to be your family garage, and as our slogan says: "A garage you'll be happy to recommend".

We service, MOT and repair most makes and models of modern vehicle and also specialise in classic car repair & restoration as well as having a dedicated motorhome service centre.
What has the BNI done for my business
.
How I value BNI membership
.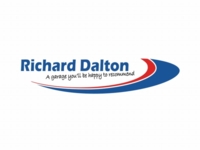 Holditch Road
Newcastle under Lyme
Staffordshire ST5 9JA
Tel: 01782 563233
Email: Service@richard-Dalton.com
Website: http://Www.richard-dalton.com
Testimonials
By: Mark Findler (Mark Findler Decorating Services) 29/05/2022
Mark Findler Decorating Services have used Richard Dalton Ltd for a number of years, Vanessa and the entire team are always first class in their entire approach to everything mechanical.
MFDS would have no problem recommending Richard Dalton Ltd for any vehicle related issues to all Business owners, Friends & Family.

Mark Findler (Owner Mark Findler Decorating Services)