Sam Spilsbury
Commercial photography studio based in Stafford. Our services include • Commercial Photography, both on location and in our studio • 360º product photography • Virtual tours that are also virtual reality viewer compatible
SO Visual is based in Stafford town centre and we are extremely driven to produce high quality work for our clients. Photography is not just our job, it's something we are very passionate about. We are a 2 man team (Ollie Sammons and Sam Spilsbury).

Since we started SO Visual, we have worked on a wide variety of different projects, big and small. Our website www.so-visual.co.uk reflects this, and shows some of our most recent work. Whilst we are based in Stafford, we are more than happy to travel.
What has the BNI done for my business
We are relatively new to BNI, although it has already had a big impact on our company. We've met some extremely helpful business owners and we're looking forward to the increased exposure it will hopefully bring SO Visual.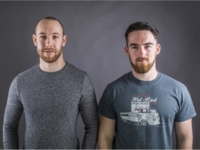 Unit 12 Pearl House
Anson Court
Staffordshire Technology Park
Stafford
ST18 0GB
Tel: 01785 254656
Email: sam@so-visual.co.uk
Website: http://www.so-visual.co.uk
Testimonials
By: Tom Karklins (Indigo Buteo Productions) 06/09/2019
Working with Sam and Ollie is a pleasure because most importantly you know you don't have to worry about getting fantastic images because it is guaranteed with these guys. From corporate shoots, events, weddings, they have it all covered and can add that extra flare to a lot of shoots by using their drone to take stunning aerial shots.

I highly recommend them and can't wait to continue working with them.