Alan Watson
A & L Services UK Ltd - Plumbing, Gas and Heating Specialists
Plumbing, Gas and Heating Specialists

A & L Services Ltd was established by Alan Watson in 2004 after around twenty years successfully working as a professional Plumber and Heating Engineer. The growth of the business since becoming a Limited Company has meant that A & L can now concentrate greater resources into serving its local domestic customers.


As part of our continuing growth, we have taken on additional well qualified Engineers who have the right skills and the right attitude to reinforce and continue to build our reputation as a friendly, professional and excellent value-for-money heating and plumbing company.

• Large and small jobs
• Friendly, experienced and helpful staff
• Free quotations and advice
• All types of heating and plumbing
• Well trained, well qualified staff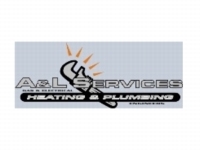 Tel: 01782 634147
Email: info@aandlservices.co.uk
Website: http://www.aandlservices.co.uk
Testimonials
By: Matthew Mason (Tableau Reproduction Ltd) 25/02/2021
I would like to thank Alan and the Team at A&L Services.
I have a number of rental properties and A&L Services make life easier with their pro-active support diarising services and inspections so that they are done in ample time.
Each time I have used their services they have been very helpful, prompt, efficient and are competitively priced.
Nothing is too much trouble, they have fixed other problems at the same time and I would definitely recommend them.

Matthew Mason
Tableau Reproduction Ltd.